Construction City Cluster is up and running
CoLab is at the heart of Construction City, where competitors meet and collaborate to create the future of construction. It is a unique gathering point for the industry and a test center for new and sustainable solutions.
Published 28. November 2019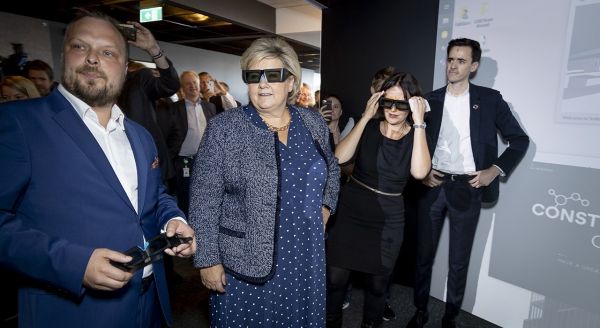 CoLab is the first physical evidence of the new collaborative spirit of the construction and real estate industry.
CoLab is a place where members of Construction City Cluster can test new tools without carrying all the expenses themselves. The premises will be an important meeting place for competitors, entrepreneurs and possible partners, aiming to drive the industry's collective innovation, digitalization, and sustainability.
"In a country with many small and midsize businesses one must collaborate to be better. You can't just compete to be better. At CoLab, new solutions will be explored. And I know knowledge sharing, innovation and sustainability will be important here" said Prime Minister Erna Solberg at the opening of CoLab on September 16.

Man kan ikke bare konkurrere for å bli bedre. Her på CoLab skal nye løsninger utforskes, og jeg vet at kompetansedeling, innovasjon og bærekraft vil stå sentralt
Erna Solberg – Statsminister
A better construction industry
The goal of Construction City Cluster is to make construction more efficient, reduce the industry's carbon footprint and to strengthen the industry's recruitment and diversity.

"Our main goal is to move from talking about change to creating actual change. To succeed, we must dear to share our knowledge, in order to develop it and practice it. That is what we'll be able to do here at CoLab", says Benedicte Økland, CEO of Construction City.

The cross-sector cluster will focus on good, sustainable solutions that can be utilized in the entire construction value chain.
"By collaborating and creating cross-sector synergies, we hope to catch up to productivity gains seen in other industries. Digitalization is a foundation of the cluster strategy. We can make billions by increasing the industry's degree of digitalization. This will benefit consumers and society as a whole," Økland says.
Prime Minister Erna Solberg emphasized that the construction and real estate industry delivers critical infrastructure that affects every Norwegain's bottom line:
"We have to move away from the 'I lose if you do better'-attitude. If your company does better, so does mine. If your company makes fewer mistakes before handover, the better for me. This is the extended version of collaboration", Solberg said.