Construction City rises at Ulven
Published 06. December 2019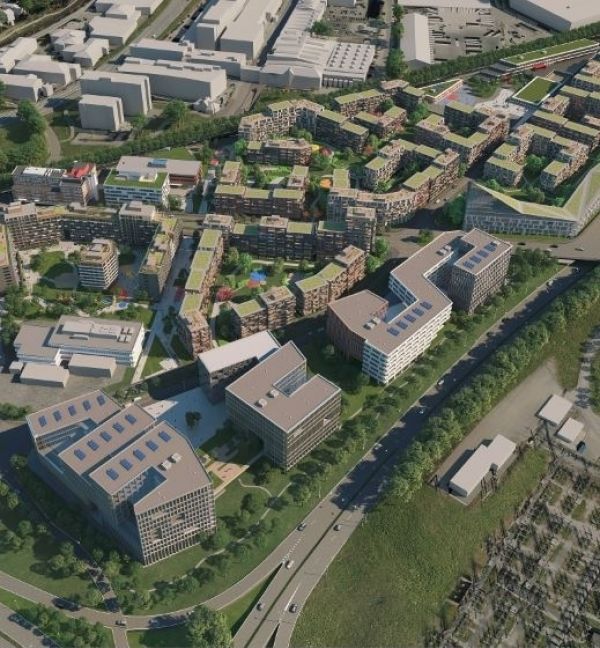 OBOS, AF Gruppen and Betonmast will be the engines of Construction City, a new science park at Ulven in Oslo, measuring 80 000 square meters and 5000 workplaces.
They will attract the country's most forward-leaning companies and organizations. The Ulven area will be one of the largest transformation projects in Oslo and a major part of the Hovinbyen development project. Ulven will have 3000 apartments and 200 000 square meters of commercial real estate.
Collaborative arena
"Along with AF Gruppen and Betonmast we will create a groundbreaking collaborative arena with the world's most attractive workplaces in our field. We will co-locate small and large entities from many sectors, to lift the industry's collective competitiveness", says CEO of BOS, Daniel Siraj.
OBOS, AF Gruppen and Betonmast will move their headquarters to Ulven when the project is completed in 2025. Construction City will house incubators, educational institutions, consultancies, architectural practices, real estate developers and entrepreneurs. The initiating partners wish to build a collaborative center with attractive common areas, cafes, and training facilities, for tenants to meet professionally and socially.
"Construction City will offer the office space of the future and will be an attractive arena for learning and developing. By gathering the industry we will be able to invest in facilities and technology that promotes innovation and synergies for employees and students", says Morten Grongstad, CEO of AF Gruppen.

Broad participation
Many companies and organizations came on as early partners in the project. They will participate actively in developing the project and may also be co-located at Construction City in the future. Some of the partners are:
Technical solutions: GK Gruppen AS
Multidisciplinary consulting: Multiconsult
Research: SINTEF
Startups: StartupLab
Recirculation: Norsk Gjenvinning
Bank and finance: DNB
"We are thrilled to be a part of the team from the beginning. It is important to gather the industry fro Day One", representatives from the companies say in a joint statement.